What Is Toyota Safety Sense
Toyota Safety Sense™ (TSS)  is a bundle of active safety features included on many new Toyota vehicles at no additional cost. These innovative features help protect you and your passengers from harm.
| | | | | | | |
| --- | --- | --- | --- | --- | --- | --- |
| | PCS | LDA | AHB | DRCC | LTA | RSA |
| TSS 2.0 | ✔️ | ✔️ | ✔️ | ✔️ | ✔️ | ✔️ |
| TSS-P | ✔️ | ✔️ | ✔️ | ✔️ | | |
| TSS-C | ✔️ | ✔️ | ✔️ | | | |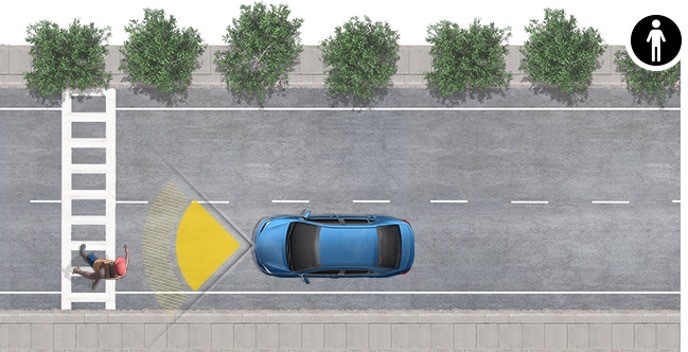 Pre-Collision System with Pedestrian Detection (PCS w/PD)
Toyota Safety Sense Pre-Collison System with Pedestrian Detection (PSC w/PD) can detect a vehicle in most situations, designed to mitigate or avoid a potential frontal collision with certain obstacles.
Using an in-vehicle forward-facing camera and a millimeter-wave radar or a laser sensor actively detects a vehicle, bicyclist, or a pedestrian directly in front of the vehicle during daylight or low-light conditions.
In the risk of a possible frontal collision, the Pre-Collision System will analyze the situation and use one of the three following actions to mitigate a potential frontal collision.
If a vehicle suddenly stops in front of you, and if the possibility of a collision is high, it will warn you with an audible alert. Also, a brake message on the Muti-Information Display (MID) will flash within the vehicle's instrument cluster.
If you do not react, the Brake Assist (BA) will be primed and ready for you, so when you start braking, the vehicle will apply more brake force to stop more aggressively to avoid a potential frontal collision.
If you don't apply the brakes, automatic emergency braking will be activated to stop the vehicle and potentially avoid a possible frontal collision. Once the vehicle is completely stopped, after 2 seconds, the vehicle will stop holding the brakes.
*Intersection support and emergency steering assist are two functionalities added to TSS 2.5 and 2.5+.
At intersections, the system may detect an oncoming vehicle or pedestrian when performing a left-hand turn, as well as an oncoming pedestrian when performing a right-hand turn.
Meanwhile, emergency steering assist is designed to help stabilize the vehicle when the driver initiates an emergency steering maneuver around an obstacle within their lane, reacting to a preceding pedestrian for TSS 2.5, as well as a preceding vehicle or bicyclist for 2.5+.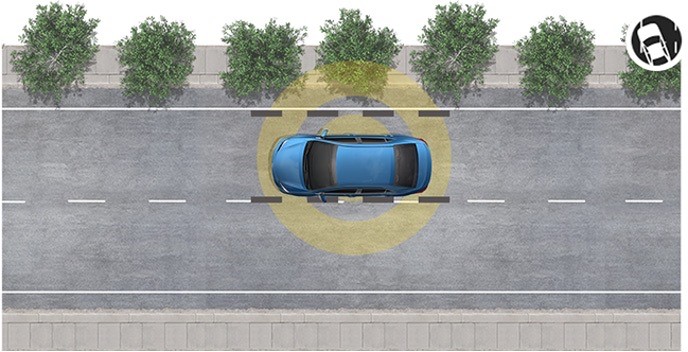 Lane Departure Alert with Steering Assist (LDA w/SA)
Under certain circumstances, Lane Departure Alert (LDA) actively detects lane departure on roads with visible lane markings. LDA is active when you're traveling at a speed of 32 mph or higher. Drivers will hear and see the alert, after carefully checking the road around you, you should safely direct your vehicle back to the center of your lane.
Toyota vehicles equipped with Toyota Safety Sense™ P (TSS-P) and Electronic Power Steering (EPS) include Steering Assist functionality. When activated, the system may detect unintentional drifting and automatically make small corrective steering inputs to help keep your vehicle in its lane.
Road Edge Detection
Road Edge Detection scans for the boundary between asphalt and the side of the road, such as grass, soil, or a curb, and helps keep drivers in their desired lane. Suppose the system determines that the driver is not taking corrective steering action. In that case, the Steering Assist function will initiate and provide gentle corrective steering to help keep your Toyota in the lane.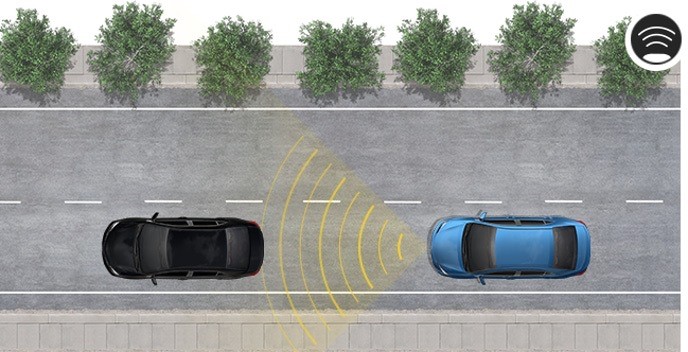 Dynamic Radar Cruise Control (DRCC)
Full-Speed Range DRCC operates between 0-110 mph. This enables low-speed following, matching speed, and stopping before colliding with preceding vehicles on highways under certain circumstances. The Full-Speed Range Dynamic Radar Cruise Control feature is available only with an automatic transmission.
Intended for highway use and similar to "constant speed" cruise control, Dynamic Radar Cruise Control (DRCC) lets you drive at a preset speed. DRCC uses vehicle-to-vehicle distance control, which adjusts your speed to help you maintain a preset distance from vehicles ahead of you moving at a slower speed. DRCC uses a front-grille-mounted radar and an in-vehicle forward-facing camera designed to detect vehicles and their distance.
DRCC will automatically slow your vehicle down without deactivating cruise control if a driver is traveling slower than you or within your preset range. If DRCC determines you need to slow down more, an audio and visual alert notifies you and applies brakes. When there's no longer a vehicle driving slower than your preset speed in front of you, DRCC will then accelerate to your preset speed.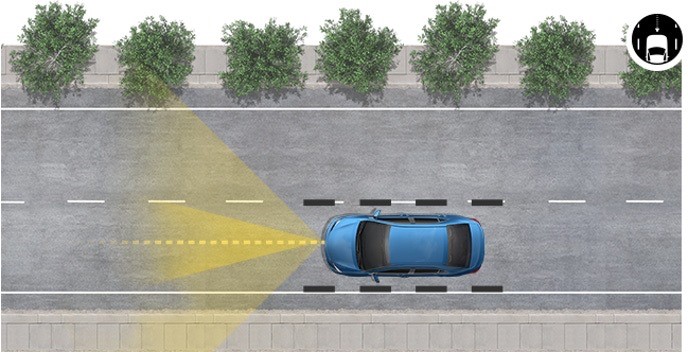 Lane Tracing Assist (LTA)
When Full-Speed Range Dynamic Radar Cruise Control (DRCC) is enabled and lane markers are visible. Lane Tracing Assist (LTA) uses the lines on the road and preceding vehicles to help keep the vehicle centered while also displaying the vehicle's position on the MID screen.
This system aims to reduce driver strain, increase convenience, and benefit drivers most during traffic jams—but can be turned off using the MID. In addition, the Lane Tracing Assist feature is available with an automatic transmission, not available with a manual transmission.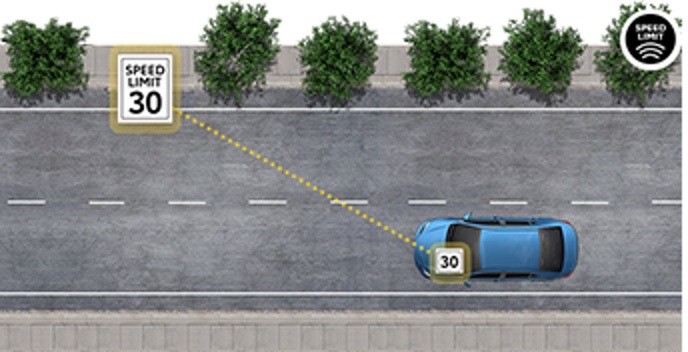 Road Sign Assist (RSA)
Road Sign Assist (RSA) helps bring added awareness to your drive. Using a forward-facing intelligent camera, Road Sign Assist detects speed limit signs, stops signs, do not enter and yield signs, and displays them on the MID.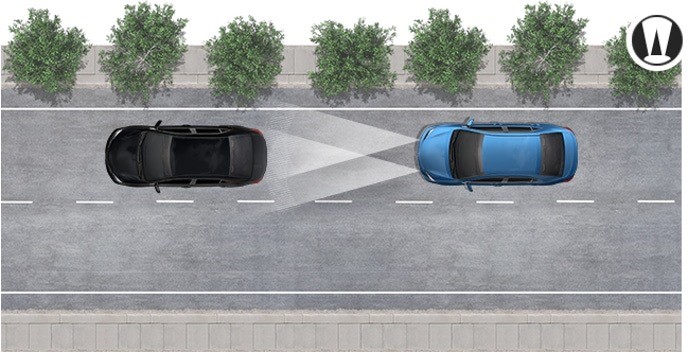 Automatic High Beams (AHB)
The Automatic High Beams (AHB) feature is a safety system designed to help you see more clearly at night—without distracting other drivers. Designed to activate at speeds above 25 mph, AHB relies on an in-vehicle camera to help detect the headlights of oncoming vehicles and taillights of preceding vehicles, then automatically toggles between high and low beams accordingly. By using high beams more frequently, the system may allow earlier detection of pedestrians and obstacles.