Towing Capacity on Toyota RAV4, Best In Class for 2023?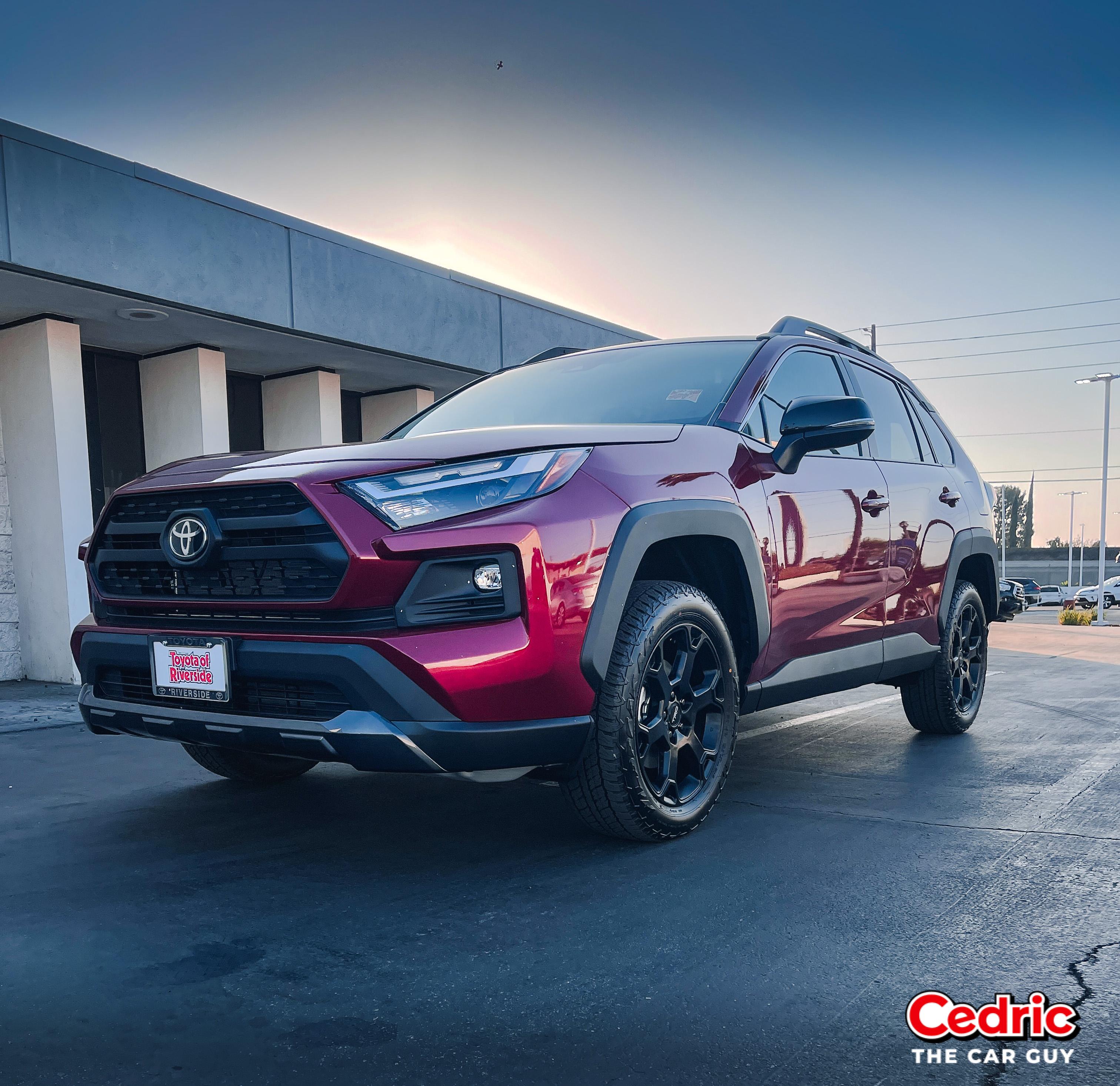 Introduced in 1994, the Toyota RAV4 has cemented its reputation as a reliable, versatile, and fuel-efficient compact SUV. Its global success stems from Toyota's commitment to longevity and adaptability, making it a favorite among drivers.
Today, we break down the towing capacity of the 2023 Toyota RAV4 for each model grade and package because the capabilities vary. This guide will give you the detailed answers you need without searching the entire internet. 😉
Knowing the towing capacity of your RAV4 will keep you safe.
Understanding towing ability is crucial for RAV4 owners. It ensures safety on the road. It lets you know what your vehicle can handle, protects it from damage, and avoids possible warranty issues, as exceeding limits might not be covered.
How Tow Capacity Is Defined On Toyota RAV4?
Towing capacity is the maximum weight a vehicle can safely pull behind it; whether you're towing a trailer, a boat, or another load, it helps ensure the vehicle, the driver, and other motorists' safety on the road. Factors that can influence a vehicle's towing capacity can be the engine size and power. The braking system and the vehicle's chassis strength.
RAV4's Maximum Towing Capacity; Heavy to Light Duty in (lbs.)
3,500 pounds on the Adventure & TRD Off-Road

2,500 pounds on the Prime XSE & Prime SE

1,750 pounds on RAV4 Hybrid which includes:

LE, XLE, SE, XLE Premium, Woodland Edition, Limited, and XSE

1,500 pounds on gas models:

LE, XLE, XLE Premium, and Limited
Drivetrains play a significant role in Maximum Tow Capability.
The Toyota Star Safety System is an advanced suite of safety features that enhances vehicle stability and control (especially useful when towing heavy loads), working together to prevent accidents and safeguard drivers and passengers.
Anti-lock Brakes (ABS)

Brake Assist (BA)

Electronic Brake-force Distribution (EBD)

Vehicle Stability Control (VSC)

Traction Control (TRAC)

Smart Stop Technology (SST)
Toyota's engineers knew this would be important for the RAV4 and more critical when pulling heavy loads.
Toyota Safety Sense 2.5+ is an advanced safety suite developed by Toyota to enhance the safety of its vehicles and provide additional peace of mind to drivers and passengers. This suite is standard on RAV4, RAV4 Hybrid, and RAV4 Prime Plug-in Hybrid. 
Full-Speed Dynamic Radar Cruise Control (DRCC)

Pre-Collusion System with Pedestrian Protection (PCS)

Land Departure Alert with Steering Assist (LDA)

Automatic High Beams (AHB)

Lane Tracing Assist (LTA)

Road Sign Assist (RSA)
Toyota Safety Sense 2.5+ reflects Toyota's commitment to advancing safety technology and creating vehicles that prioritize the well-being of occupants and others on the road. 
Toyota's Trailer Sway Control (TSC) is a safety feature designed to enhance towing stability and safety when towing trailers or heavy loads behind Toyota vehicles. TSC is particularly beneficial when driving on highways, windy roads, or maneuvers that might induce trailer sway.
Trailer sway, also known as fishtailing, occurs when the towed trailer starts to sway side-to-side. This can happen due to sudden lane changes, improper weight distribution, inadequate trailer hitch setup, or being hit with a wild crosswind. Trailer sway can be unsettling and potentially dangerous if not addressed promptly.
Toyota's Trailer Sway Control adds extra safety and confidence for drivers who tow trailers or heavy loads. By automatically detecting and mitigating trailer sway, TSC helps maintain control over the RAV4 and the trailer, reducing the risk of accidents and enhancing overall towing safety. It's an essential feature for those who frequently tow trailers and want to ensure a stable and secure towing experience.
What trailers and boats can you tow with the Toyota RAV4?
People generally like light travel trailers with bigger, heavier SUVs for their towing needs. This is where RAV4 shines, getting 35 miles per gallon on the daily commute and 41 mpg on the RAV4 Hybrids; generally, a V6 engine SUV will be lucky to get 25 to 27 mpg on the highway.
A few items you can now bring with you and your RAV4.
Utility Trailers

Teardrop Trailers

A-Liners

Canoes

Light Fishing Boats

Jet Skis

Sea Doos

Dirt Bikes

Snowmobiles

ATVs

Motorcycles
Suppose towing capacities are a major concern when compared with the other manufacturers. In that case, I've listed the quick specs below to show you how they stack up against the RAV4.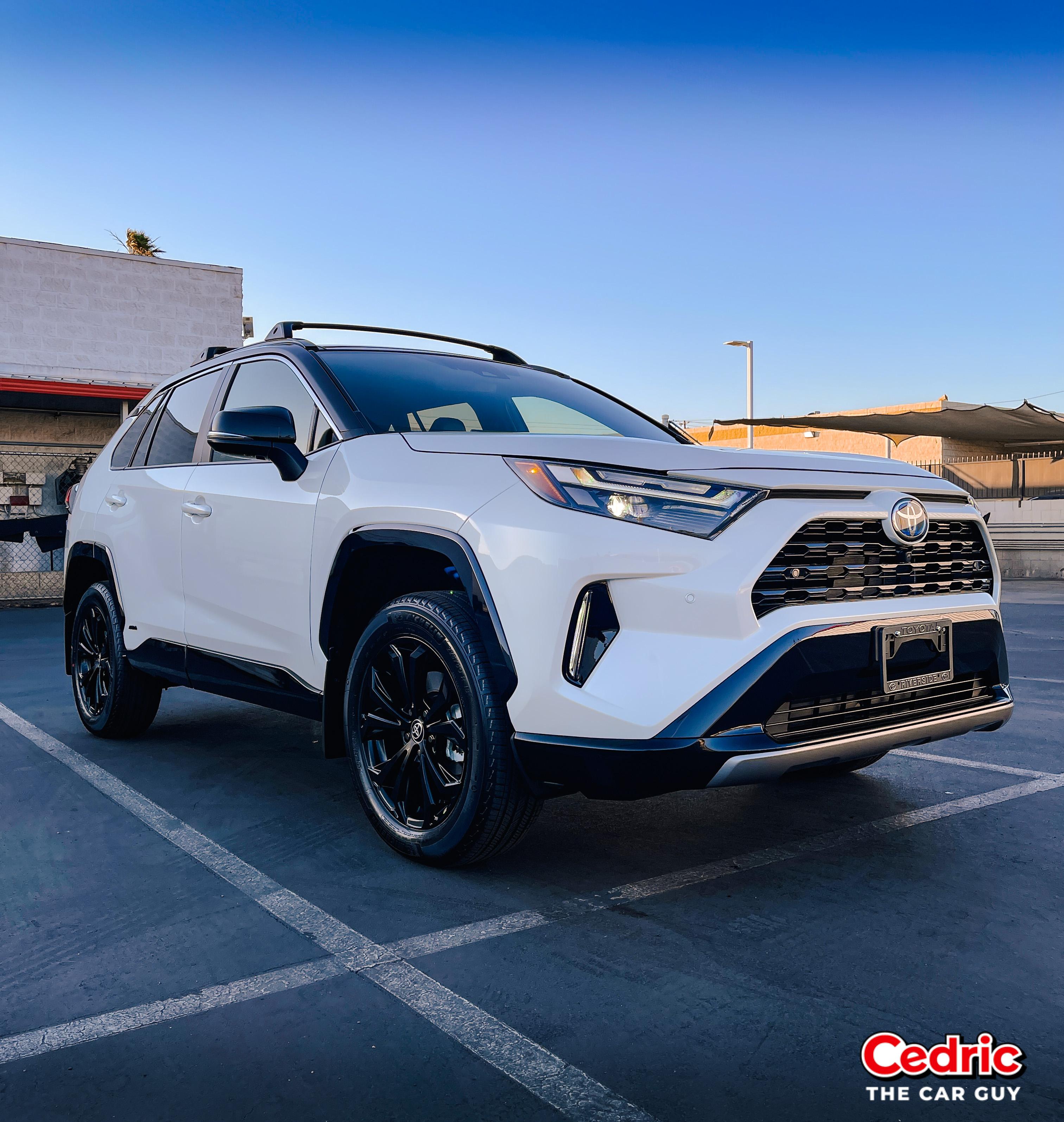 Quick Look at Toyota RAV4's Competitor's Maximum Towing:
Ford Espace – 3,500 lbs.

Subaru Forester – 3,000 lbs.

Hyundai Tucson – 2,000 lbs.

Kia Sportage – 2,000 lbs.

Mazda CX-5 – 2,000 lbs.

Chevy Equinox – 1,500 lbs.

Honda CR-v – 1,500 lbs.

Jeep Compass – 1,500 lbs.

Nissan Rogue – 1,500 lbs.

Volkswagen Tiguan – 1,500 lbs.
Safety Tips for Towing Your Trailer
When towing a trailer, safety is paramount. Ensure your vehicle has the required towing capacity for the trailer's weight. Ensure your trailer weight is under the recommended towing capacity for your specific RAV4 trim level.
Next, properly connect the trailer and hitch to your vehicle and check all the lights, brakes, and turn signals are connected and functional. Double-check that the trailer's tires are properly inflated and the load is evenly distributed to prevent trailer sway.
Always use safety chains, and cross them underneath the hitch to form an "X" pattern. Regularly inspect the trailer and its contents during transit, especially after bumps or sudden stops. While driving, maintain a safe distance behind other vehicles, brake earlier than usual, and avoid sudden lane changes. Remember, the added weight requires extra stopping distance. Finally, practice driving with the trailer in an empty parking lot to get accustomed to its size and weight.
Recap of the 2023 Toyota RAV4 Maximum Towing Capacity
Understanding the maximum towing capacity on the exact model RAV4 you drive and staying well under that number will keep you and others safe on the road.

Maximum towing capacity is the max weight our tow vehicle can pull safely down the road.

The max tow capacity for the RAV4 is 3,500 lbs to 1,500 lbs. Depending on the trim levels, anything over that is too much weight.

Towing capacity Toyota RAV4 Hybrid is 1,750 lbs.

The given drivetrain plays a significant role in the pulling capabilities of each model grade RAV4.

Toyota engineers have included multiple advanced safety suites to assist the RAV4 while keeping you safe on the road.

Make sure to use the proper class hitch kit and that it's compatible.

Always refer to the owner's manual for weight ratings and capacities.

Consider purchasing a trailer brake controller, upgrading your RAV4s transmission oil cooler, or getting an oil temperature gauge for your transmission.
Frequently Asked Questions
What is the towing capacity of the Toyota RAV4?
The Toyota RAV4 typically offers a towing capacity ranging from 1,500 to 3,500 pounds depending on the model year and specific trim level.
Does the towing capacity differ between the hybrid and gasoline versions of the RAV4?
Yes, the hybrid variant of the RAV4 may have a different towing capacity than its gasoline counterpart. Generally, the hybrid versions have a slightly lower towing capacity if you compare them with the Adventure or TRD Off-Road models. The maximum towing rating would depend on the specific model year and trim.
How can I enhance my RAV4's towing capabilities?
While the RAV4's towing capacity is determined by its engine and build, some aftermarket modifications, such as enhanced cooling systems, transmission upgrades, and specialized towing packages, can help the vehicle tow more efficiently. However, it's crucial to ensure any modifications align with Toyota's recommendations to avoid damaging the vehicle or voiding the warranty.
Is there a specific trailer weight or size recommended for the RAV4?
While the RAV4 can tow up to its maximum towing capacity, staying within 80% of that limit is recommended for the best performance and safety. This ensures the vehicle remains stable and can brake efficiently. The trailer size should also be compatible with the vehicle's width and height for safe towing.
Does frequent towing with my RAV4 affect its longevity or maintenance needs?
Towing heavy loads regularly can put additional strain on the vehicle's engine, transmission, and brakes, which may lead to more frequent maintenance and possibly reduce the vehicle's lifespan. It's essential to regularly check the vehicle's transmission fluid, brake system, and cooling system if you tow often.
Does the AWD (All-Wheel Drive) variant of the RAV4 offer a higher towing capacity compared to the FWD (Front-Wheel Drive) version?
Typically, the AWD version of a vehicle might offer better towing stability due to power distribution across all wheels. Still, it doesn't necessarily mean a higher towing capacity. For the RAV4, both FWD and AWD variants might have similar towing capacities, but it's best to refer to the specific model year's specifications to determine any differences.
Are there special accessories or equipment Toyota recommends when towing with the RAV4?
Toyota might recommend specific towing accessories for the RAV4, such as towing hitches designed for the model, wiring harnesses for trailer lights, and trailer sway control devices. Using genuine or Toyota-approved accessories ensures compatibility and safety when towing.
Note: Always refer to the vehicle's Owner's Manual for more detailed information about your specific vehicle. Safe driving practices should always be followed. For more details, contact your local Toyota Dealer or visit Toyota.com.