In the market for a new ride? Looking to trade in your old set a wheels for something a little more reliable and dependable? Read on to find out if the 2018 Toyota Corolla LE is the right vehicle for the job.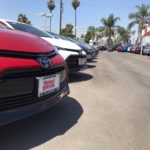 2018 Toyota Corolla LE – an Introduction
Known for their durability and reliability as a steady commuter vehicle, the 2018 Toyota Corolla remains largely unchanged from its 2017 predecessor (with some minor enhancements). With outstanding predicted reliability and high fuel efficiency, this vehicle offers economy over performance, and reliability over some of its more untamed, sporty counterparts.
Packages and Options
This review is going to focus on the LE edition/package, which is priced right around $20,000 USD for entry level trim. Other options include the L, LE, SE, XSE and XLE.
For those of you that are safety conscious, the LE edition comes with a five star crash test safety rating. And if you're constantly sweating every time you look at gas prices you'll be happy to hear that the LE gets around 36 miles to the gallon the highway, and 28 in the city.
The 2018 Toyota Corolla has a great predicted [...]